Fish Identification
Lot 6: Identification tips for Danio rerio
The fish specimens of this 'Lot' are small-sized (2.6 – 4.4 cm) are one of the most beautifully ornamented individuals with metallic blue lateral bands on the sides as well as on caudal and anal fins, found frequenting along the margins of clear (uncontaminated), shallow and weedy streams (Song, Suswa in the Eastern Doon) and Asan, Tons in the Western Doon).
Unhesitatingly, keep it identified as: ……….. Danio rerio
Other characterizations of this species include the presence of 2 pairs of barbels, the rostrals being shorter but the maxillary ones extending beyond eye orbit. Body is laterally compressed with narrow, upwardly directed cleft of mouth.
Colouration is most attractive with greenish-silvery on the dorsum and flanks, paler along the abdomen; 5 metallic blue bands on the sides demarcated by 4 silvery ones (2 mid-lateral, 1 ventro-lateral and 1 dorso-lateral; extending up to the caudal fin, 2 each above and below the fork point; a 5th whitish line is exclusively on both the caudal lobes); 4 bluish lines run across the anal fin (3 on the main fin and 1 along the base).
Curiously enough, whether dwelling in the streams of Doon Valley (Uttarakhand) or Banda district (at River Paisuni or Mandakini Ganga at Chitrakoot, Uttar Pradesh, India), on most occasions Danio rerio is found living with the shoals of Devario devario (Lot 7). Further, the occurrence of Esomus danricus and Rasbora daniconius (both of Lot 5) is not uncommon with the shoals of Danio rerio.
Danio rerio: Lateral view showing broader metallic blue bands on the flank separated by narrower slivery white bands.  
MORE PHOTOGRAPHS OF Danio rerio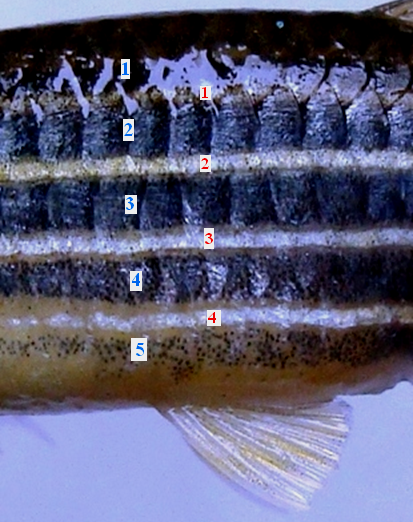 FAVOURITE DWELLING SITES OF Danio rerio
Systematic position:
Family: Cyprinidae
Subfamily: Rasborinae (= Danioninae)