My Drawings and Paintings
'Painting is but another word for feeling'.
……………John Constable
Gold olden memories (1960's and beyond) are worth recollecting when there were no COMPUTER GRAPHICS, FLEX PRINTING etc. Only the skilled Artists, owning their business and fulfilling the space for their hobbies, were to paint Portraits, Filmy Posters, write banners and even make black and white photographs coloured. The days to be remembered are those when just a kid of High School/Intermediate used to keenly observe the tricks used in making any kind of painting a reality or colouring of black and white photographs. The material being used was also enquired or noted.
In school days, most fascinating was to observe the Paintings being done by our Art Teachers, creating Drama Curtains (depicting different scenes, as of forest, river, market, a Kings Court etc.) in the most popular Intermediate College of Dehradun district, Sadhu Ram Inter College, Raja Road, my alma mater and my father's employment arena. Insight about painting was kindled at that stage.
Another fascinating activity of painting was to watch a painter used to paint huge Film Posters of new upcoming film, particularly in FILMISTAN cinema hall, Moti Bazar, Dehradun (Uttarakhand), close to our residence. It was interesting to watch how exact facial figures were painted after drawing squares on the photographs and enlarging them on the huge cloth screen. Peculiar light and shade designs adopted were curiously watched. This all infused zeal to do the same at home while drawing diagrams (biology etc.). There was a time when 'banners' of a political party were also written for 5 rupee each. Teaching aid 'Charts' were also prepared for those pursuing BTC courses.
It is worth mentioning that no drawing school was joined to learn the ethics of oil colour or water colour paintings. It was only learned through own creativity skills followed after the teachers or other painters doing.
The year 1971 was the beginning of my teaching carrier and a room in 'Jain Dharamshala', Banda (UP, India) was my staying place. In an unknown city with not much of acquaintance and place to pass time, my hobby of drawing and painting started taking shape and thought it to be the best to keep busy besides preparing for classroom lectures. It was after Indo-Pak war of 1971 when the month of December saw the birth of new Nation, 'Bangladesh' carved out of 'East Pakistan', Sheikh Mujibur Rehman becoming the 'Father of Bangladesh' and then Prime Minister of the new Nation.
During that period, the famous 'Illustrated Weekly' English magazine of India (not published after Nov. 13, 1993) put a full page photograph of Sheikh Mujibur Rehman on its cover page. Fascinated by the colour, shades and hues, I decided to create the same on a hard board with oil paints. The painting was completed in 1972. This creation was found to be a best task to make business with creativity. Resultantly, another oil painting of then Indian Prime Minister Smt. Indira Gandhi was made into a reality and the desire of doing so was continued with more paintings.
The act of concentrating and working on the minutest details of these portraits helped greatly in making classroom lecture more impressive with quick diagrammatic work on the blackboard with white and coloured chalks.
                    Black and white drawings with fine-tipped crookle:
Working with waterproof black ink and the famous drawing tool 'the Crookle' (a fine-nibbed holder) was also a fascination for me to draw portraits. Once I was made Editor-in-Chief of 1987 & 1987-88 and 1988-89 combined 'Silver Jubilee' issue of annual Magazine 'VIKALPA' of Pt. Jawaharlal Nehru (PG) College, Banda (UP, India). Some articles related with certain personalities were among the contents. Besides doing the editing work some sketching work was also incorporated out of the enjoying hobby of drawing. Some are here to view: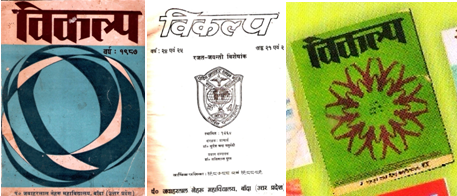 A village girl painted in the background of serene environment of 'Temples', fetching a pitcher-full of water from natural sources in morning hours.
This painting having 'Black' coloration is out of water-proof 'Vito' ink and the coloured part by using water miscible 'Poster Colours'.